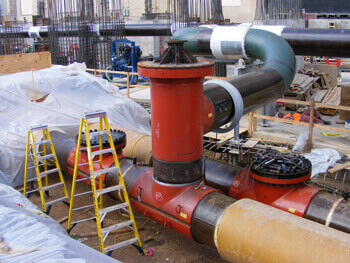 Serving nearly every major market segment in the country, EMCOR Construction Services (ECS) companies provide exceptional mechanical construction solutions for both commercial and industrial clients across the nation.
From small capital improvements to plant expansions to end-to-end new facility construction, ECS companies can handle projects of virtually any size and complexity. They work closely with clients to find a project delivery system best suited to their needs, using traditional, design-assist, integrated project delivery, and, in some locations and segments design-build approaches. Many of our companies also leverage state-of-the-art BIM, professional project management, and in-house prefabrication to help enhance project efficiency, safety, and value.
And, as EMCOR Group companies, they have access to the final resources, nationwide vendor network, and robust technical and safety training of a Fortune 500 company.
Comprehensive Mechanical Expertise