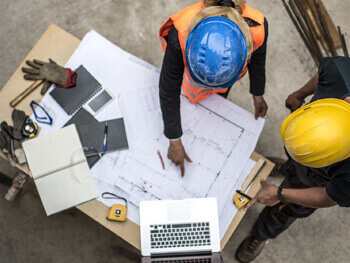 One of the best ways to avoid common project pitfalls, is to plan for them from the start.
That's why EMCOR Construction Services (ECS) companies employ highly trained Project Managers who have the technical and specialty trades expertise needed to help complete your project on time and on budget.
From planning and design to resource management, budget allocation, and more, the Project Managers at our companies are ready to help keep the entire construction process efficient and on track.
Guiding Projects to Success – from Start to Finish
At ECS companies, Project Managers work with clients up front to analyze and identify specific project requirements. They are proactive from the onset, thinking about things like unrealistic deadlines, scope creep, and resource challenges.
Our companies contribute the greatest value when consulted early during the initial planning stage, so that their Project Management, BIM, and fabrication expertise can be leverage to its fullest.
After construction begins, Project Managers act as important lines of communication with clients, as well as fellow trades contractors and other vendors—aiming to keep everything running smoothly from start to finish. If change orders are needed, Project Managers act quickly to respond to new scopes and rapidly adjust schedules.
Project Management Solutions